Adult Faith Formation
St. Michael Events and Faith Groups
Alive in the Word: The Kingdom of God (Sunday Mornings)
Men's Breakfast (Monday Mornings)
Men's Fellowship (Monday Evenings)
Women's Bible Study (Monday Evenings)
Parish Prayer Group (Monday Evenings)
Women's Book Study (Wednesday Evenings)
Rite of Christian Initiation of Adults
ARE YOU THINKING ABOUT BECOMING CATHOLIC?
Star the conversation by contacting Fr. Benson Okpara or Justin Huyck at (330) 492-3119, frbenson@stmichaelcanton.org, or justin@stmichaelcanton.org CLICK HERE FOR MORE
Spirits and Spirituality - Adults in 20's and 30's
THURSDAY, SEPTEMBER 26, 2019 - Walther's Twin Tavern - 7pm
This month we welcome Ashley Quinn to reflect on "Self-Care," drawing om her experience as Director of Youth Ministry at St. Michael and as license . CLICK HERE FOR MORE
Throughout Stark County
Tenth Annual Faith and Family Festival
SUNDAY, SEPTEMBER 22, 2019 - Walsh University
A day of fun and fulfillment for families, students, and friends, held on the West Quad of the Walsh University campus: 2020 E. Maple St. North Canton. The day will begin at 11am with Mass and will feature Christian comedian John Branyan, SingStark! from Voices of Canton, and other talented musical acts. In addition, there will be activities for kids and young people, vendors and exhibitors, and affordable food by Cafe Augustine. CLICK HERE FOR MORE
Diocese of Youngstown and Northeast Ohio

Married Couples Weekend
OCTOBER 11-13, 2019 - Homewood Suites, Solon
Do you wish you could talk to your spouse with a deeper level of listening and understanding? On Worldwide Marriage Encounter weekends, couples hear presentations, do exercises, and reflections to help them understand themselves and their spouses better. To register for this weekend (space is limited) call (330) 305-9963 or visit GreatMarriagesOhio.org to register or learn more.
---
Liturgy and Life Blog
Past Events and Online Resource Library
At our parish's Adult Faith Formation Archive, you can find a record of past speakers, retreats, events, small faith groups, series, and classes.
For some of these programs, you will also find online resources (handouts, powerpoint presentations, etc.)
Additional Online Resources
Are you following us on our Facebook page? If so, you know that we post videos, articles, and other items that can provide inspiration for your day, and help you grow deeper in faith. It's also a great way to keep in touch with what's going on at St. Michael's!
Find us, and like us, on facebook by clicking here.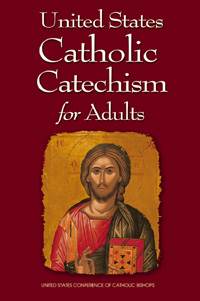 FEATURED ONLINE RESOURCE
The U.S. Catholic Catechism for Adults is now available - for free - online. This book, developed by the U.S. bishops and approved by the Vatican, is an easy-to-read adaptation of the Catechism of the Catholic Church. It also includes great features like biographies of saints, questions for discussion and reflection, quotes for meditation, and prayers.
Take a look at the book by clicking here.
FEATURED VIDEO
As Jesus Welcomed:
Biblical Spirituality for a Welcoming and Engaging Christian Community
Father James Walker, the award-winning Scripture Columnist for the Catholic Exponent, spoke at St. Michael's in September 2014. He reflected with us on what it means to be a welcoming and engaging Christian community, with Jesus as our model. Father Walker's focus was on the message Jesus proclaimed, the methods he used, and the Man himself. He also reflected on the challenges of today's increasingly digital, skeptical, and individualistic culture.
ADULT FAITH FORMATION EVENTS, GROUPS, AND SERIES:
Adult Faith Formation - Main Page (Speakers, Retreats, and Seasonal Parish Series)
Spirits and Spirituality (For Adults in their 20's and 30's)
ADULT FAITH FORMATION PAST EVENTS AND RESOURCES
Pastoral Associate,
Adult Faith Formation
(330) 492-3119, ext 218