Adult Faith Formation
Retreats and Special Events
In light of the Covid-19 outbreak, our Lenten Mission has been postponed. For further details about St. Michael precautions, see our homepage: www.stmichaelcanton.org. For more information about the Coronavirus (COVOID-19) updated in real time, please visit: https://coronavirus.ohio.gov
Faith Groups and Bible Studies
To register for any group, or to open your faith group to others in the parish, please contact Justin Huyck at (330) 492-3119, ext. 218 or justin@stmichaelcanton.org
MONDAYS
Men's Breakfast – First Monday of the Month, 7:30am - Currently Suspended due to COVID-19
Meets at Buehler's for breakfast and to explore the Sunday readings and connect them to daily life.
Men's Fellowship – Monday Evening (1st/3rd of month), 6:30pm – St. Michael Room - Currently Suspended due to COVID-19
Learning, discussion, and fellowship – currently using the United States Catholic Catechism for Adults – a reader-friendly version of the longer Catechism, with Church teaching, saints, and more. (Book Cost: $20, which can be purchased after beginning)
Women's Bible Study - Scheduled to resume Mondays, April 20 – May 18, pending resolution of COVID-19 precautions
WEDNESDAYS
Women's Book Study – Alternating Wednesdays (Resume March 4), 9:15-10:30am - Parlor - Currently Suspended Due to COVID-19
Daily life takes a toll in energy, time, and effort. What we need is sanctuary, a place and space that allows us to reflect, rejuvenate, and restore. This Spring, we will read and discuss Terry Hershey's book, Sanctuary: Creating a Space for Grace in Your Life, which not only defines what sanctuary is but why we need it, where we can find it, and how we can create it. Book Cost: $17, purchased after registering.
Spirits and Spirituality - Young Adults in 20's and 30's
CLICK HERE FOR MORE ABOUT SPIRITS AND SPIRITUALITY
RCIA - Are You Thinking About Becoming Catholic?
Rite of Christian Initiation of Adults
ARE YOU THINKING ABOUT BECOMING CATHOLIC?
Start the conversation by contacting Fr. Benson Okpara or Justin Huyck at (330) 492-3119, frbenson@stmichaelcanton.org, or justin@stmichaelcanton.org CLICK HERE FOR MORE
---
Additional Opportunities in Stark County
Due to COVID-19 precautions, many organizations are suspending upcoming events. This is a fluid situation, so please check with the sponsoring organization about the event's status.
---
Hamilton Forum Concert: P.J. Chavez and Friends
Christ the Servant Church, Canton (833 39th St.)
Sunday, March 22, 2020 - 2pm
An Afternoon of Music and Reflection. Free Concert - Freewill Donations Accepted.
---
Lenten Mission: Prayer and Reflection on Self
With Fr. Ed Keck
Little Flower, Canton (2040 Diamond St. NE) - Varble Hall
Night 1- Monday, March 23: A Refresher on Prayer; Intentions and Effects
Night 2- Tuesday, March 24: Looking at your life through the lens of prayer
For questions call Lori Zimmer 330-494-2759
Faith and Family Festival
Save the Date for the Faith and Family Festival on Sunday, September 27 at Walsh University in North Canton. For more information contact Dave Schmidt at dschmidt@youngstowndiocese.org or 330-744-8451 ext.272.
Opportunities in the Diocese and Region
Foundations in Ministry Reunion Dinner
The Foundations in Ministry Closing Retreat will be on Saturday, March 28th at St. Thomas the Apostle Parish in Vienna. Please pray for the participants as they complete their year of formation. All past participants of the Foundations in Ministry Program are invited to join the group for Mass with the St. Thomas the Apostle community, dinner, and the commissioning ceremony. Mass begins at 4:30pm with the dinner following in the parish hall. The dinner is $15. If you are interested in attending, please RSVP by March 18th to pschafer@youngstowndiocese.org or (330) 744-8451 ext. 275.
Come and See Weekends
Come and See weekends allow young men the opportunity to experience what seminary life is like. During these weekends participants have the opportunity to attend classes with seminarians, experience the prayer life, participate in community recreation, and learn how to find their vocation. Join us at St. Mary Seminary Cleveland to "come and see." Next "Come and See" Weekend: April 3-5, 2020
The weekend is open to men 17 to 44 years of age. Register at clepriesthood.org - go to the Discernment and Discovery tab.
Wedding Anniversary Celebration
Couples observing their 25th, 40th, 50th and over wedding anniversaries will be honored at a wedding anniversary celebration at St. Columba Cathedral in Youngstown on Sunday, June 14, 2020, at 2:00 p.m. The celebration includes Mass with Bishop Murry, renewal of marriage vows, a personalized certificate for each couple, and a reception for the couples and their families. A second anniversary celebration will take place at the Basilica of St. John the Baptist Church in Canton on Sunday, October 18, 2020; at 2:00 p.m. Couples may register for the date most convenient for them. Registration information for the June celebration will be sent to parishes by the end of March.
Liturgy Day 2020
Saturday, October 10, 2020 | Saint William Church ~ Champion | Keynote Speaker ~ Rev. Ricky Manalo, CSP
Additional Online Resources
For videos, articles, and other items that can provide inspiration for your day, and help you grow deeper in faith. It's also a great way to keep in touch with what's going on at St. Michael's!
Diocese of Youngstown Online Courses
A listing of the Religious Education Certification Opportunities for Catechists and Teachers is available on Catechist Cafe. Core courses, general courses, parish-sponsored, college/university-hosted, and other regional organizations are included in the list of online and onsite sessions. Visit catechistcafe.weebly.com, hover on "For Catechists" for "Catechist Courses."
Registration is available at Catechist Café for these diocesan online courses for March and Easter:
Exploring the Old Testament | March 23 – May 11, 2020 | GENERAL COURSE, 12 hours | Online facilitator: Joan Lawson; contact Joan for password at jlawson@youngstowndiocese.org. $28 fee includes book.
Sowing God's Word: Sharing Faith, Nurturing Discipleship| CORE COURSE, 10 hours | April 20 – May 29, 2020: Online facilitator: Marcy Fessler; contact Marcy for password at marcy-stpatricks@neo.rr.com. $32 fee includes book.
CTNY on YouTube (Catholic Television Network of Youngstown):
A great resource collecting current and past programs from CTNY - include the award-winning Wineskins (WILB AM Canton 1060/WILB FM 94.5 Canton at 9:30 a.m. and 9:00 p.m) and on YouTube
Coming Up onWineskins This Month:
The Current Issue Segment will feature: March 1: Fr. Jim Korda talks about the Catholic Men's Fellowship; March 8: Fr. Jim Korda speaks with Fr. Michael Balash on "The Light is on for You"; March 15: Nancy Voitus talks about Catholic Charities; March 22: Fr. Jim Korda talks with Darlene Jones from St. Vincent de Paul; and, March 29: Dr. Pete Schafer talks about the Pastoral Plan.
Saints: Brother Dominic, from CTNY and the Society of St. Paul, will tell us about the Saints celebrated this month: March 1: St. Katherine Drexel; March 8: St. Frances of Rome; March 15: St. Joseph; March 22: St. Oscar Romero; and, March 29: St. Isidore.
The Interview Segment will include: March 1: Fr. Jim Korda and Fr. Jeff Mickler, SSP, talks about the Vatican II document on Priestly Ministry; March 8: Fr. Jim Korda and Fr. Jeff Mickler, SSP, talks about the Vatican II document on Christian Education; March 15: Fr. Jim Korda and Fr. Jeff Mickler, SSP, talks about the Vatican II document on The Church in the Modern World; March 22: Fr. Jim Korda speaks with Bill Barber on Prison Ministry; and, March 29: Fr. Jim Korda speaks with President Tim Collins from Walsh University.
This month's Music Segment is from the CD "From the Cross to Glory" by The Kellenberg Memorial High School Choir.
Sunday Scripture Readings: Deacon Matthew Humerickhouse, transitional deacon, will give his reflections on the Sunday Scripture Readings: March 1: First Sunday of Lent; March 8: Second Sunday of Lent; March 15: Third Sunday of Lent; March 22: Fourth Sunday of Lent; and, March 29: Fifth Sunday of Lent.
---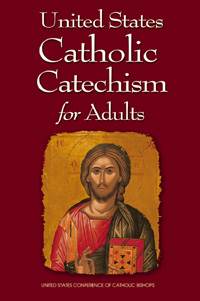 FEATURED ONLINE RESOURCE
The U.S. Catholic Catechism for Adults is now available - for free - online. This book, developed by the U.S. bishops and approved by the Vatican, is an easy-to-read adaptation of the Catechism of the Catholic Church. It also includes great features like biographies of saints, questions for discussion and reflection, quotes for meditation, and prayers.
Take a look at the book by clicking here.
ADULT FAITH FORMATION EVENTS, GROUPS, AND SERIES:
Adult Faith Formation - Main Page (Speakers, Retreats, and Seasonal Parish Series)
Spirits and Spirituality (For Adults in their 20's and 30's)
ADULT FAITH FORMATION PAST EVENTS AND RESOURCES
Pastoral Associate,
Adult Faith Formation
(330) 492-3119, ext 218