Adult Faith Formation
Retreats and Special Events

Father Maurice Emelu, Ph.D. is an author, speaker, and professor at John Carroll University in Cleveland, Ohio. He is the host of EWTN's The Faith with Father Maurice. Father Maurice is a priest of the Catholic Diocese of Orlu in Nigeria and founder of Gratia Vobis Ministries, Inc., a global ministry for cross-cultural evangelization and works of charity.

Free admission. Free-will offering will be taken. Appropriate for all ages. Refreshments afterward.
Faith Groups and Bible Studies
To register for any group, or to open your faith group to others in the parish, please contact Justin Huyck at (330) 492-3119, ext. 218 or justin@stmichaelcanton.org
MONDAYS
Men's Breakfast – First Monday of the Month, 7:30am
Meets at Buehler's for breakfast and to explore the Sunday readings and connect them to daily life.
Men's Fellowship – Monday Evening (1st/3rd of month), 6:30pm – St. Michael Room
Learning, discussion, and fellowship – currently using the United States Catholic Catechism for Adults – a reader-friendly version of the longer Catechism, with Church teaching, saints, and more. (Book Cost: $20, which can be purchased after beginning)
Women's Bible Study - Will resume Mondays, April 20 – May 18.
WEDNESDAYS
Women's Book Study – Alternating Wednesdays (Resume March 4), 9:15-10:30am - Parlor
Daily life takes a toll in energy, time, and effort. What we need is sanctuary, a place and space that allows us to reflect, rejuvenate, and restore. This Spring, we will read and discuss Terry Hershey's book, Sanctuary: Creating a Space for Grace in Your Life, which not only defines what sanctuary is but why we need it, where we can find it, and how we can create it. Book Cost: $17, purchased after registering.
Spirits and Spirituality - Young Adults in 20's and 30's
CLICK HERE FOR MORE ABOUT SPIRITS AND SPIRITUALITY
RCIA - Are You Thinking About Becoming Catholic?
Rite of Christian Initiation of Adults
ARE YOU THINKING ABOUT BECOMING CATHOLIC?
Start the conversation by contacting Fr. Benson Okpara or Justin Huyck at (330) 492-3119, frbenson@stmichaelcanton.org, or justin@stmichaelcanton.org CLICK HERE FOR MORE
---
Additional Opportunities in Stark County
Crisis and Consolation in the Early Church - An Historical Perspectivetle Flower, Canton (2040 Diamond St NE) - Varble Hall
4 Wednesdays: January 22, February 5, February 12, February 19 | 6:30-8:00pm
Fr. Patrick Manning will lead this 4-part series that looks at the events that shaped the Catholic Church from councils, to heresies to saints. For more information call Lori Zimmer @ 330-494-2759
---
No Greater Love: A Biblical Walk Through Christ's Passion
St. Paul, North Canton(241 South Main St.) - Parish Social Hall
Each Friday evening of Lent | 7:30-8:30pm, following Stations of the Cross (7pm)
Facilitated by Fr. John E. Keehner. This Lent, walk with Christ through his passion in this biblical study. The series begins with the Agony in the Garden and concludes with the crucifixion of Jesus.
---
Magnificat Breakfast: A Ministry to Catholic Women
Walsh University Barrette Center, North Canton (2020 E. Maple St.)
Saturday, March 14th - 8:30am Doors Open, 9am Breakfast
Erin Clark will be the guest speaker. Register by March 7th. Cost: $22 Mail-in / $23 Online -- Go to magnificatstark.weebly.com to print out a Reservation Form or to pay online. There will be an optional Mass at 8:00 a.m. in Our Lady of Perpetual Help Chapel at Walsh University. Questions: Joan Spieth at 330-933-8778
---
Catholic Men's Fellowship Conference 2020: Making Your Vision Clear
St. Thomas Aquinas High School, Lousville (2121 Reno Drive NE)
Saturday, March 21, 2020; 9:00 a.m. – 4:00 p.m
Dr. Ray Guarendi will be the keynote speaker at the 8th annual Catholic Men's Fellowship Conference. Come together with men from the diocese for a day of fellowship, spiritual awakening and new direction on. Bishop Murry will preside at the 4:00 p.m. closing mass. For more information go to www.CMFDOY.org
---
Hamilton Forum Concert: P.J. Chavez and Friends
Christ the Servant Church, Canton (833 39th St.)
Sunday, March 22, 2020 - 2pm
An Afternoon of Music and Reflection. Free Concert - Freewill Donations Accepted.
---
Lenten Mission: Prayer and Reflection on Self
With Fr. Ed Keck
Little Flower, Canton (2040 Diamond St. NE) - Varble Hall
Night 1- Monday, March 23: A Refresher on Prayer; Intentions and Effects
Night 2- Tuesday, March 24: Looking at your life through the lens of prayer
For questions call Lori Zimmer 330-494-2759
Opportunities in the Diocese and Region
Come and See Weekends
Come and See weekends allow young men the opportunity to experience what seminary life is like. During these weekends participants have the opportunity to attend classes with seminarians, experience the prayer life, participate in community recreation, and learn how to find their vocation. Join us at St. Mary Seminary Cleveland to "come and see." Next "Come and See" Weekend: April 3-5, 2020
The weekend is open to men 17 to 44 years of age. Register at clepriesthood.org - go to the Discernment and Discovery tab.
Additional Online Resources
For videos, articles, and other items that can provide inspiration for your day, and help you grow deeper in faith. It's also a great way to keep in touch with what's going on at St. Michael's!
CTNY on YouTube (Catholic Television Network of Youngstown):
A great resource collecting current and past programs from CTNY - include the award-winning Wineskins (WILB AM Canton 1060/WILB FM 94.5 Canton at 9:30 a.m. and 9:00 p.m) and on YouTube
Coming Up onWineskins This Month:
The Current Issue Segment will feature: February 2: Fr. Jim Korda speaks with Dr. Shannen Dee Williams on Religious Life; February 9: Fr. Jim Korda speaks with John Angotti from the First Friday Club about Music Ministry; February 16: Rachel Hrbolich talks about Catholic Charities; and, February 23: Fr. Jim Korda talks with Joan Lawson on Religious Education.
Saints: Lou Jacquet, from St. Brendan Church in Youngstown, will tell us about the Saints celebrated this month: February 2: St. Agatha; February 9: Ss. Cyril and Methodius; February 16: St. Peter Damien; and, February 23: St. Polycarp.
The Interview Segment will include: February 2: Fr. Jim Korda and Fr. Jeff Mickler, SSP, talks about the Vatican II document on Religious Life; February 9: Fr. Jim Korda and Fr. Jeff Mickler, SSP, talks about the Vatican II document Priestly Formation; February 16: Fr. Jim Korda and Fr. Jeff Mickler, SSP, talks about the Vatican II document on The Laity; and, February 23: Fr. Jim Korda and Fr. Jeff Mickler, SSP, talks about the Vatican II document on The Missions.
This month's Music Segment is from the CD "Miss D & Joni, Songs for a Better World" by local artists Diane Drapcho and Steve Vuich.
Sunday Scripture Readings: Fr. John Sheridan, Rector of St. John the Baptist Basilica and pastor of St. Peter Church, both in Canton, will give his reflections on the Sunday Scripture Readings: February 2: Presentation of the Lord; February 9: Fifth Sunday in Ordinary Time; February 16: Sixth Sunday in Ordinary Time; and, February 23: Seventh Sunday in Ordinary Time.
---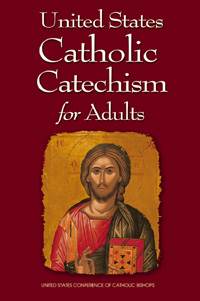 FEATURED ONLINE RESOURCE
The U.S. Catholic Catechism for Adults is now available - for free - online. This book, developed by the U.S. bishops and approved by the Vatican, is an easy-to-read adaptation of the Catechism of the Catholic Church. It also includes great features like biographies of saints, questions for discussion and reflection, quotes for meditation, and prayers.
Take a look at the book by clicking here.
ADULT FAITH FORMATION EVENTS, GROUPS, AND SERIES:
Adult Faith Formation - Main Page (Speakers, Retreats, and Seasonal Parish Series)
Spirits and Spirituality (For Adults in their 20's and 30's)
ADULT FAITH FORMATION PAST EVENTS AND RESOURCES
Pastoral Associate,
Adult Faith Formation
(330) 492-3119, ext 218