Adult Faith Formation

For Spirits and Spirituality (Young Adults in 20's and 30's): Click here
---

Lenten Faith Groups
Lent: Season of Transformation (Sunday Mornings)

Women's Bible Study (Monday Evenings)

Women's Book Study (Wednesday Mornings)

Men's Fellowship (Monday Evenings)
---
Liturgy and Life Blog (Experimental)
Published: June 24, 2018
      Praying our Faith draws on this Sunday's images of God's shaping, strengthening, calling, and naming us (June 24th, Nativity of John the Baptist). Growing in Faith flows from this Sunday's readings, but may be useful at any time to deepen our understanding of a particular aspect of Catholic tradition and practice. This […] [Read More]
Published: June 16, 2018
    Welcome! This new series is experimental and is intended to serve the people of St. Michael's in Canton, Ohio – and all who are interested! There are three sections, flowing from this Sunday's liturgy (June 17th: 11th Sunday of Ordinary Time), but which can be used for reflection at any time. This week […] [Read More]
Past Events and Online Resource Library
At our parish's Adult Faith Formation Archive, you can find a record of past speakers, retreats, events, small faith groups, series, and classes.
For some of these programs, you will also find online resources (handouts, powerpoint presentations, etc.)
Additional Online Resources
Are you following us on our Facebook page? If so, you know that we post videos, articles, and other items that can provide inspiration for your day, and help you grow deeper in faith. It's also a great way to keep in touch with what's going on at St. Michael's!
Find us, and like us, on facebook by clicking here.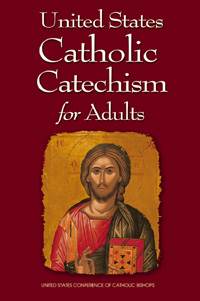 FEATURED ONLINE RESOURCE
The U.S. Catholic Catechism for Adults is now available - for free - online. This book, developed by the U.S. bishops and approved by the Vatican, is an easy-to-read adaptation of the Catechism of the Catholic Church. It also includes great features like biographies of saints, questions for discussion and reflection, quotes for meditation, and prayers.
Take a look at the book by clicking here.
FEATURED VIDEO
As Jesus Welcomed:
Biblical Spirituality for a Welcoming and Engaging Christian Community
Father James Walker, the award-winning Scripture Columnist for the Catholic Exponent, spoke at St. Michael's in September 2014. He reflected with us on what it means to be a welcoming and engaging Christian community, with Jesus as our model. Father Walker's focus was on the message Jesus proclaimed, the methods he used, and the Man himself. He also reflected on the challenges of today's increasingly digital, skeptical, and individualistic culture.
ADULT FAITH FORMATION EVENTS, GROUPS, AND SERIES:
Adult Faith Formation - Main Page (Speakers, Retreats, and Seasonal Parish Series)
Spirits and Spirituality (For Adults in their 20's and 30's)
ADULT FAITH FORMATION PAST EVENTS AND RESOURCES
Pastoral Associate,
Adult Faith Formation
(330) 492-3119, ext 218